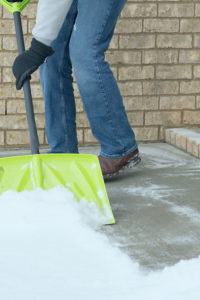 This morning arrived with a fresh five inches of snow blanketing everything in sight. Going out to plow the driveway, I tackled this chilly project with the enthusiasm that comes only with the first big snowfall. (After that it's safe to say that my excitement for plowing and shoveling quickly wanes.) The neighborhood deer, squirrels and fox are nowhere to be seen this morning. They have, presumably, found shelter from the storm. Later this week we expect dangerously freezing temperatures. The homeless shelter nearby is full of warm people. And yet, still others will likely suffer frostbite or worse in these dangerous wintry days.
Yesterday at the church's annual meeting I offered up this Prayer of Good Courage, specifically for the church as we navigate the future. Whereas 20 or 30 years ago the church had a certain centrality in society, she now sits at the margins. As people of faith, we grapple with how to be church (or rather, followers of Jesus) in new ways, in uncharted territory, in ways both complex and quite simple. 
The simplicity of a life spent learning from and emulating Jesus, the courageous Rabbi from Nazareth, is to set aside worries about the future and attend to what is right in front of you. So today, join me in putting your faith into action: call someone who is snow-bound, share a meal, shovel a walk, give out granola bars to those who stand at the side of the road, or simply pray this prayer. May God accompany you this week with good courage, challenging work, and a daring faith.
Shalom,
Pastor Julie Wright
Prayer of Good Courage:
O God, you have called your servants to ventures of which we cannot see the ending, by paths as yet untrodden, through perils unknown.
Give us faith to go out with good courage, not knowing where we go, but only that your hand is leading us and your love supporting us, through Jesus Christ our Lord. Amen.